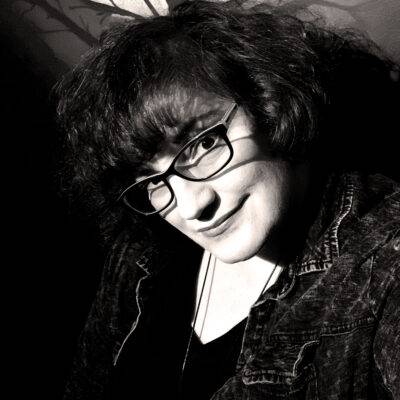 Andrea Powell
Artist and Vocalist
Andrea Powell is an artist, vocalist, and songwriter with the award-winning indie synthpop synthwave electronic music duo Eric C. Powell Music. Having embraced music from an early age, Andrea has sought her involvement with music first as a vocalist and later as an award-winning lyricist and songwriter.
With Eric, she was one of the founding members and lead female vocalist of Turning Keys, an early 90s synth pop band which received favorable reviews and a significant following in the Southern California electronica sub-culture. More recently she contributed vocals for remixes of the ever popular synthpop sensation CLICK by DarwinMcD featuring Eric C. Powell.
Today, she continues to enjoy a growing repertoire of offerings providing vocals which some described as "beautiful and haunting," expressing the longing of our hearts while saturating the soul. In addition, she has co-written a number of tracks, having written the lyrics for such well-received favorites as NEED A PLACE, I'M ON MY WAY, and SHATTERED GLASS to name a few. Don't miss her "icy blue" vocals and writing on the maxi-single SOUL TO YOUR HEART, plus a number of recent 2023 releases.
Be sure to follow Andrea on social media and Spotify, and check out more about Eric C. Powell Music.